FAQ's
Discover the answers to your Maileg questions to understand everything you need to know when buying Maileg mice and collectables.  
What is Maileg?
 Maileg is a Danish-designed brand, established in 1999 by Dorthe Mailil. Famous for their tiny mice, rabbits, bunnies, soft toys, and beautiful dollhouse furniture. Maileg is a world of imagination. 
Why is Maileg popular?
 Maileg is loved by all ages, their heirloom quality of each product, combined with quality Danish design makes them a household favourite. Children tend to be bought two types of toys, there are toys of the moment often inspired by the kid's current obsession. The second we hope will become childhood treasures, toys that are loved, played with constantly, and kept forever. Maileg definitely fits in the latter of the two. 
Maileg toys fit snuggling into pockets and bags. Ideal for a little ones who may be worried as they explore the big world starting a new school, or for those searching for a pocket-sized friend on their journeys.  
Maileg mice make the ideal travel companion, keeping little ones occupied on those long or short journeys. Whether it's on a plane, train, or care ride. Save handing over a phone and instead watch your little one's imagination unfold with their Maileg friends. Providing comfort along the way, the perfect travel buddy. 
Is Maileg suitable for boys?
 Absolutely! There's no restriction to imaginative play. There are a whole host of Maileg friends in the collection. The Superhero Mouse is a firm favourite, and for those who love the outdoors, the Camping mice can be a great addition, especially with its very own tent and accessories, made to explore. 
Is Maileg sustainable?
 Maileg has a strong focus on the environment right through the brand from the production of the Maileg toys to the packaging used. They use recycled FSC-certified cardboard and paper for their packaging and aim to reduce CO2 emissions within the transport of their products. Using responsible sourcing and production in their production facilities. 
What material are Maileg products made from?
 Maileg products are crafted from various quality materials including cotton, wool, linen, wood, and metal. All to ensure they are long-lasting and have minimal impact on the environment. 
How do you play with Maileg?
 Maileg toys are perfect for imaginative play. Due to their unique sizing, Maileg mice work brilliantly in dollhouses of multiple sizes. They add a whimsical magical touch to your child's play. The smaller bunnies and rabbits also tie in great with the mice, making one big happy family. 
Making stories with your Maileg friends is easy as they have the whole family covered from mothers, fathers, grandparents, big sisters, and brothers, to sleepy babies. It's lovely to build a collection of mice to reflect your own family. Head over to our My Mice Family to start building yours. 
How is best to start my Maileg collection?
 We're thrilled you would like to start collecting Maileg. If you're new to starting to collect Maileg, head over to our dedicated starting to collect guide. 
Do you have a guide to Maileg sizes?
 Absolutely! Head over to our dedicated size guide for Maileg mice, bunnies, rabbits and furniture here. If you have a specific question about a product or product size please do get in touch. 
How do the Maileg mice sizes vary?
 Take a look at our handy guide for all the Maileg mouse sizes.  
Do you have a guide to Maileg dollhouse furniture sizing?
 We do! Head over to our dedicated guide to Maileg dollhouse furniture sizing here. 
How do I care for my Maileg mice?
 Discover our dedicated care section on how to care for your Maileg mice and Maileg rabbits, bunnies, and soft toys. 
How do you pronounce Maileg?
 The correct pronunciation is My-Lye
What age will Maileg toys be suitable from?
 Maileg toys are suitable for all ages. 
All of the Maileg soft fabric animals which are 100% fabric are approved for all ages from 0-3. There are a selected few which are recommended for 3 years +, due to the small parts and based on children's fine motor skills.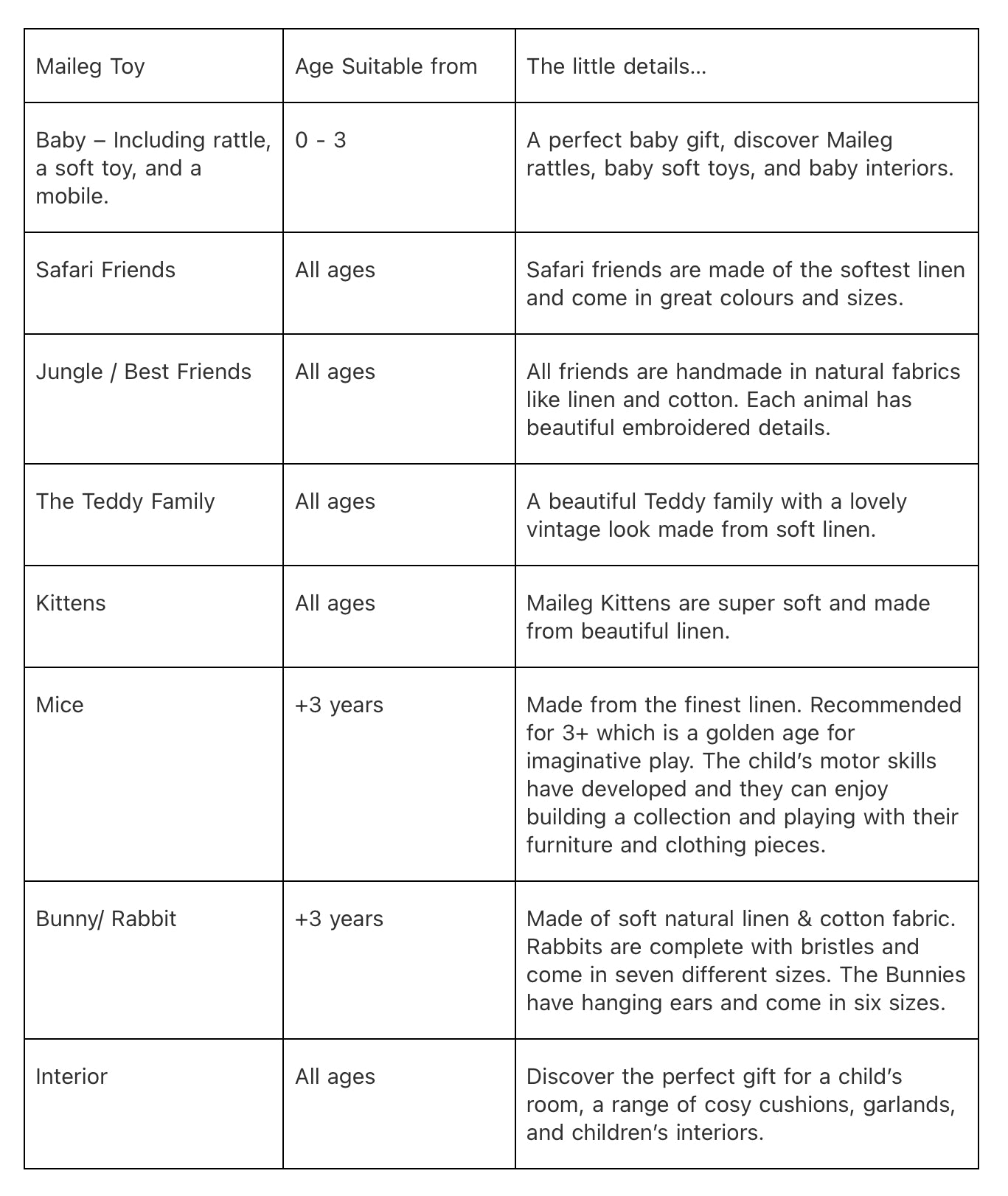 Do Maileg toys have age approval?
 All Maileg toys are tested and approved according to 2 standards; EN-71 (Europe) and ASTM-F963 (USA).